School Bus, City Bus and Coach Transit Curtains for COVID protection.
New to Canada, Exclusive from CMVTC MJG Technologies
This product is not priced for profitability. They are being provided as part of our School Bus Student Safety Advocacy program.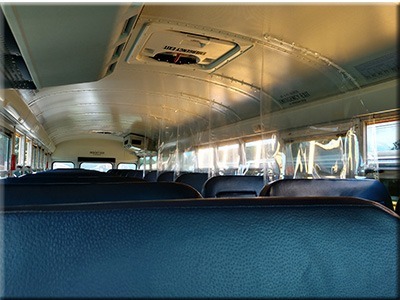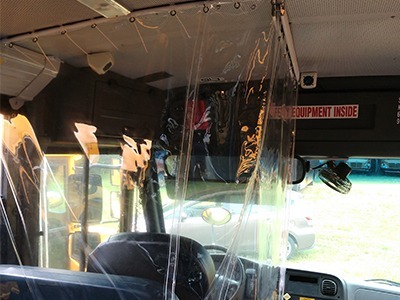 Bus Driver COVID Curtain Kit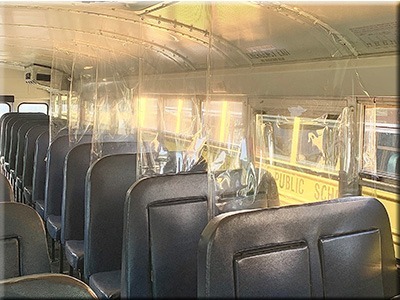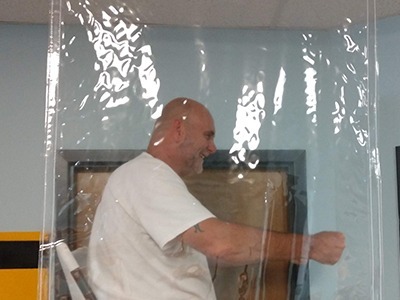 1 child per seat. 24 on a 72 seater. (NO SKIPPING)

Meets CDC guidelines for barriers and distancing.

Reduces spread of germs on school bus.

Meets FMVSS 571.302 Safety Standards.

Attaches in minutes to any model school bus.

16 mil fire resistant PVC curtains are super durable.

Act Now and Avoid the Rush!
Email us below
Transit COVID Curtain FAQ
Q: Does the Transit Curtain meet US Federal School Bus specifications?
A: It meets FMVSS 571.302 for fire resistance
Q: Are the Curtains approved for use on School Buses in all provinces?
We have not pursued provincial approvals as this is designed to be a stop-gap measure until the COVID issue is resolved. As they are approved across USA under FMVSS 571.302 Safety Standards, amendments should not be a problem.
However many provinces are working on making this work for the 2020/2021 school year, even though it falls outside the current standards. Given the current regulations do not accommodate an event this catastrophic to school attendance, new amendments are being drafted.
We have been in discussions with Transport Canada and provided documentation.
That being said, we are a premium School Bus Video and Student Safety Technologies provider for Canada. These COVID Curtains are an interim solution that can possibly allow for classes to resume with minimum interruptions during this time.
Q: Does it follow CDC guidelines and requirements?
A: Yes, It exceeds the CDC guidelines
Q: How is it attached at the ceiling?
A: A flexible polystyrene bracket is mounted to the ceiling with sheet metal screws. The Curtain is attached to the  bracket using ten #18 zip ties from grommets in the curtain.
Q: How is it attached at the seat?
A: The curtain is mounted to the underside of the seat using two #80 zip ties that tie to a fiberglass rod inserted into the bottom of the curtain. The ties connect to the rail and post under the seat.
Q: Is Transit Curtain approved in all Provinces?
A: Given this is a new product to help relive COVID-19 issues they are not on spec yet, however it may be sold as PPE without need for school bus approval in some provinces.
Q: Is the Transit Curtain fire retardant?
A: Yes, Transit Curtain is fire retardant and has passed burn testing by the manufacturer.
Q: What is the Transit Curtain made of?
A: It is made from a clear 16MIL welding curtain to allow clear sight of students while remaining burn and tear resistant.
Q: Do you have a Driver version?
A: Yes, we make a version for the driver to cover the back and an option for a sliding curtain to the right of the driver.
Q: How will this help school systems?
A: Buying Transit Curtains could potentially save school systems hundred of thousands of dollars, if not millions, from not having to run multiple addition routes.
Q: Why is Transit Curtain better than its competitors?
A: We offer a better product by giving complete coverage between seats with a roof to seat covering as well as window to walkway, and still having extremely competitive pricing.
Q: How many should go on a bus?
A: It is recommended to put one for every seat on the bus excluding seats with over head air conditioning units.
Q: Does Transit Curtain fit all school buses?
A: Yes, we have engineered different cut patterns to accommodate all school bus types.
Q: How long does installation take of Transit Curtains?
A: Two mechanics can install a curtain in 5 min or less.
Q: How long after my order will I receive my product?
A: Estimated arrival time will be 2-3 weeks after the order is placed.
Q: How does it handle airflow with windows being open?
A: It was designed with channels next to the windows to allow limited air flow along with secure mounts for both the top and bottom of the curtain being able to withstand the wind.
Q: Can it mount on buses with overhead racks?
A: Yes. Specify the width of the racks with your order. They are cut to fit.
Q: How many curtains do I need for my fleet?
A: For an exact count, you need to perform a seat count of every bus. However, if you can provide a list of buses with their nominal seat count, we can provide an estimate +/- 10%.
Q: Do they work for vans and A & B model buses?
A: Yes, we just need model and seat count.
Q: How much is shipping?
A: Depends on volume and location. Typically, less than 5% of the cost of the curtains.
Q: Are Transit Curtains patented?
A: They are patent pending.
Q: Who makes Transit Curtains?
A: They are made in the U.S.A. by Bus Safety Solutions, a US Company and sold Exclusively by CMVTC MJG Technologies of Canada.
Q: How will they help me save money?
A: This product avoids you having to run twice your routes to get kids to school.
Q: Are they UV resistant?
A: Yes, the product is designed to resist damage from UV rays and is designed for indoor or outdoor use.
CDC guidelines recommend that students be separated on school buses in order to reduce the chance of spreading disease. Transit Curtains allow you to maximize the number of students your buses can carry by placing a barrier behind every seat in the bus. Keep your kids safe and maximize capacity with Transit Curtains. 
Contact Us Today for More Info on our COVID Safety Curtains